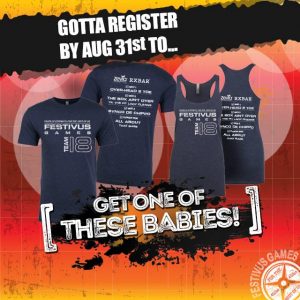 Festivus Team Comp!
What are the Festivus Games? They are a  WORLDWIDE FUNCTIONAL-FITNESS COMPETITION FOR BEGINNER AND INTERMEDIATE ATHLETES (No fire breathers allowed!). 8,000-10,000 Athletes will compete Worldwide, all on the same day, in this amazing one-day event, and CrossFit Ripcord is hosting!!
No athlete, whether six months in or brand new, will need to scale any of the events. Festivus Games is about capacity more than a high degree of skill. This is a two person same sex team comp, so grab your gym bestie (or beastie) and sign up! SIGN UP HERE!
WHEN: The comp is Oct. 13th but you need to sign up by Aug. 31st to get a FREE T-shirt! You can sign up after Aug. 31 for the comp but won't get the shirt! We will start around 8:00 am and hope to finish before 4 pm.
WHERE: CrossFit Ripcord
There are three divisions, Novice, Intermediate, and Masters. If you are not sure what division you would fall in, there is a handy guide to help.
If at least four of these six guidelines are true for you then we suggest you go Novice. Otherwise we suggest you go Intermediate.
Unassisted unbroken pull ups less than 5/2 (Male/Female)

1-rep max deadlift is less than 300/225 (Male/Female)

Mile run is over 10 minutes

2000-meter row is over 8 minutes (Male) or 9 minutes (Female)

You have no clue what your Fran time is

You've been Crossfitting less than six months
This competition is designed for athletes who are not pure Rx or firebreathers. The goal is to promote a friendly, yet competitive environment for those who routinely scale WODs and wish to challenge themselves.  You are probably over qualified for The Festivus Games if you have several of the following bench marks equal to or better than:
You compete in the Crossfit Open and Rx every WOD as an Athlete under age 40

4:00 min Fran

10:00 min Helen

3:00 min Grace

6:30 min Annie

25:00 min Kelly

18+ rounds of Cindy

1-rep max deadlift 500/300 (Male/Female)

275/185 C+J

2000-meter row less than 6:30-minutes (Male) 7:30-minutes (Female)
You are automatically over-qualified if you placed in the top 10% of this year's Open but not as a Masters athlete.

You are automatically over-qualified if you placed in the top 5% of this year's Open as a Masters athlete.
Even if you can't compete, you can come and cheer on your friends or ask us about volunteering! We promise it will be a day of fun and fitness!