Taking Control of Your Nutrition – Coach Dell
I have had several people ask in the last couple of months what they need to do to help their nutrition along. Most conversations are about losing weight or the desire to see abs, so that will be the focus of the first Nutrition Not-Seminar at the end of the month. Our goal with these info sessions is to give our members some helpful guidelines, tips, and support for them to make a plan to take control of their nutrition journey. To quote Antoine de Saint-Exupéry, "A goal without a plan is just a wish".
The first step in any plan that includes weight loss is that calories in must be less than calories out! This is where a food log comes in. If you are just guessing then you have no data to work with. Have you ever actually measured a serving of peanut butter? It is not as much as you think! If the idea of weighing and measuring is overwhelming, then use a visual guide to help with portions.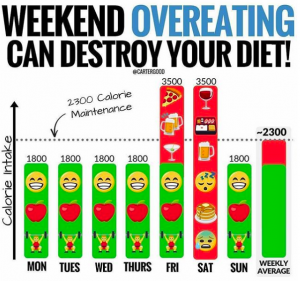 The other part of the calorie equation is consistency. Personally I do a decent job during the week and then go overboard on the weekends, basically cancelling all the hard work from the week before.The best advice if you mess up on a weekend is to just get right back on track! Don't beat yourself up, remember this is a lifestyle change not a starve yourself for 6 weeks change.
You also have to make sure you are eating enough to fuel your body for your workouts. A word of caution though, doing CrossFit doesn't mean you have free license to eat whatever! The workouts are tough and leave you gasping but that doesn't mean you burned 1200 cals in 15 minutes. This was the mistake I made my first 3 years of CrossFit. I'd work hard at the gym and then just eat whatever I wanted and then be frustrated that I wasn't leaning out or meeting my goals. Be realistic in how many calories you are burning (and eating) in a day.
Let's talk abs and muscle definition for a minute. All muscle definition is dependent on the layer of fat covering them! You can't "spot train" your abs and have them magically appear. The ab muscles will grow but unless the fat layer is lessened, they won't show any more than they did before. I'm fond of the sayings "abs are made in the kitchen", and "you can't out train a bad diet". Cliche`? Yes. True, double yes! So, that takes us back to the calorie equation.
If you plan on attending the first Nutrition Not-Seminar, I would encourage you to keep a food journal for at least 3 days. You can use My Fitness Pal, a notebook, My Macros App, whatever works for you! This will give us some data to work with and help you develop a plan to meet your goals!