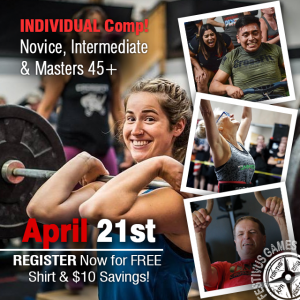 The Festivus Games Are Coming!!
6-Minute AMRAP
Intermediates (115#/85#)
7 – Power Cleans
5 – Front-Rack Reverse Lunges
3 – Wall Walks
Novice/Masters (85#/55#)
7 – Power Cleans
5 – Front-Rack Reverse Lunges
3 – Shoulder to Overhead (S2OH)
If you came in on any given day and saw this wod programmed, nearly all of our members would be able to complete this wod as written. Luckily, this is the first wod of the Festivus Games and that means all of our members should sign up to compete! This competition is designed as a function-fitness competition for the novice and intermediate athletes! You don't have to worry about having a regional level, or even just an athlete who never has to scale, show up in the lane next to you. The first 30 athletes who sign up get a $10 discount off of the registration fee. In order to get a free T-shirt (the best reason to compete) register by 02/28/2018!
Not sure if you should sign up as Novice or Intermediate?
From the Festivus Website:
NOVICE OR INTERMEDIATE?
If at least four of these six guidelines are true for you then we suggest you go Novice. Otherwise we suggest you go Intermediate.
• Unassisted pull ups less than 5/2 (Male/Female)
• 1-rep max deadlift is less than 300/225 (Male/Female)
• Mile run is over 10 minutes
• 2000-meter row is over 8 minutes (Male) or 9 minutes (Female)
• You have no clue what your Fran time is
• You've been Crossfitting less than six months
The details:
Date: April 21st 2018
Location: CrossFit Ripcord
Cost: $75 but save $10 if you are one of the first 30 to sign up, plus a free T-shirt if registered by 2/28.
Click here https://festivusgames.com/register/29521 to register!