ExhibFIT Race
As we approach our one year mark in December, we are going to start the celebrations with a fun ExhibFIT Race!

What: A fun foot race around town to collect points by visiting the art exhibits and performing special challenges. Bonus points for running in costume!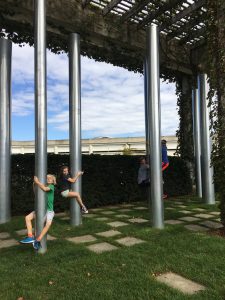 When: October 28th @ 1:00 pm. Check in will open at 11:15 am, race briefing will happen at 1:00 pm and start time to follow.
Where: Race headquarters will be CrossFit Ripcord located at 1240 12th Street.
Cost: $10.00 per person and a team can be up to four people.
Prize: The top scoring team will win 4 one month unlimited memberships to CrossFit Ripcord plus some fun swag!
The goal is gather as many points as possible in two hours! Points can be gained by:
1. Visiting the correct location and taking a picture of your team by the exhibit!
2. Doing the special challenge at each exhibit for more points!
3. Using social media to tag your team!
4. Bonus points for running in a costume!
A penalty of -1 pt per minute late will ensure that teams hustle back!
Sign up here: https://www.crossfitripcord.com/crossfit-ripcord-exhibfit-race/